MEOTM anti-pollution mask Karen Walker collection Fashion Series with extra three interchangeable covers and three replaceable filters.
5 key elements:
Filtration – MEO's Filter Media provides superior electrostatic performance, capturing over 98% of PM0.1 particles and filtering out more than 99.99% of airborne bacteria.
Breathability – we have the world's most breathable filter media, allowing the wearer to receive a steady stream of purified air because it takes less energy to draw air through the filter.
Comfort – Soft inner lining provides extra comfort. The unique chassis design allows for more breathing space and prevents make-up smudging.
Fashion – Four interchangeable, washable covers designed by Karen Walker allow users to stand out.
Ease – Replaceable filters and interchangeable covers so that you can easily adopt a fresh look every day to go with your cleaner air.
What Is In the Box
1xMeo™ Mask

2xMask Covers
2xMeo™ Filters

1xPouch

Its many advantages include
Superior electrostatic performance for capturing particles.
Removes noxious gases.
Inhibits growth of bacteria.
Made from a renewable resource.
Material
MEO™ natural filter uses scientifically selected wool from sheep specially breed in Wanaka, New Zealand.
Size
Below are MEO™ standard size (as shown in picture, the circumference measure from chin to the back of the neck)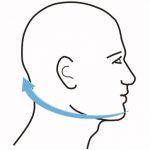 S : 365-425mm
M : 425-480mm
L : 480-545mm
Reminder: If your measurements is at the boundary of two sizes.
Please choose the bigger size if you want the best breathability.
Please choose the smaller size if you want a snug fit.